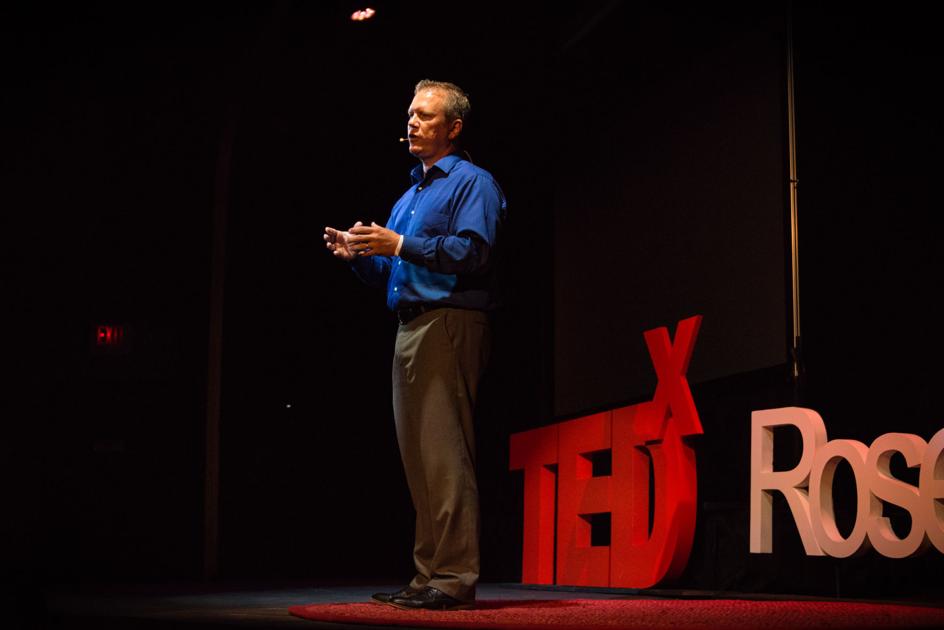 An artist. A school psychologist. A zookeeper. A pediatrician. A photographer. A lawyer.
These are just a few examples of the 12 locals attempting to make ripples in our community. That's the theme of Saturday's TEDxRoseburg event, where each speaker will share a message organizers hope spreads through the community the same way ripples spread in water.
"Ripples are an achievement of an action. It's the effect you see of something being initiated," organizer Andre Larsen said. "We chose ripples with this community's input and believe that these talks are the first step to spreading an idea worth sharing to make a positive impact in this community that carries further because it's a part of the TED platform."
TED Talks became popular in 2006 when the first videos were posted online and reached more than a million views in two months. TED stands for Technology, Education and Design and the company believes "passionately in the power of ideas to change attitudes, lives and, ultimately, the world." TED Talks cover a vast assortment of topics, which will be evident in Saturday's event.
The local presentations will be part of the TEDx program, which "brings the spirit of TED to local communities around the globe." Roseburg is one of only three locations in Oregon to host TEDx events. These talks are organized by community members who are looking to "share the latest research in their local areas that spark conversations in their communities." Seventeen volunteers have clocked over 10,000 hours organizing the full day of talks.
The live stream event will have 20 minute presentations from:
Ross Anderson, who has a doctorate in education leadership and is the principal researcher at Inflexion, an education research and strategy group
Halie Cousineau, who just finished a year with Americorps as the School Garden Coordinator for Douglas County
Jane Marino, a zookeeper and zoo educator at Wildlife Safari
Haley Smith, seed program coordinator for the U.S. Forest Service at the Dorena Genetic Resource Center near Cottage Grove
Susan Rochester, artist and associate professor of art and Performing and Visual Arts department chair at Umpqua Community College
Danielle Costa, founder and director of Learning Matters, a private educational center that serves children struggling academically
Stephanie Newman, an actor, educator, business owner and podcast host
Rebekah Melton, a licensed school psychologist practicing in Douglas County
Dr. Bob Dannenhoffer, local pediatrician and current Douglas County health officer
Juliette Palenshus, the engagement director for Blue Zones Project-Umpqua and executive director of UC-VEG
Samantha Starns, book author and elopement photographer
Robert Johnson, a Roseburg lawyer and assistant boys basketball coach at Roseburg High School
Topics range from cross-cultural forms of communication, ideas to change the current education system, the consequences of posting your child's photo to social media, volunteerism and more. Interlaced throughout the day are videos of other TED Talks and a performance by musician Lu Harlow, who wrote a song specifically for the event.
Talks aren't the only way organizers are looking to make ripples. TEDxRoseburg partnered with the Umpqua Valley Arts Association on a community rock painting project that they hope spreads "ripples of positivity" even further throughout the community.
"Rock painting is something everyone in the community, people of all ages, can take part in and feel connected to," Umpqua Valley Arts Association Community Outreach Director Sarah Holborow said. "From our local youth to our community seniors, anyone can cast their messages of hope and inspiration into the community and be a part of the positive movement."
The project takes the form of $25 kits and video lessons from local artist Sandy Kolker. Kits include an assortment of paint, a dotting tool, a wedge, a set of acrylic paint brushes and a can of gloss sealant. Rocks can be selected from the rock garden outside Umpqua Valley Arts or found along rivers, hiking trails and other outdoor locations. Kits can be ordered through an online order form.
The goal is to hide painted rocks throughout the community in order to share a little joy and happiness with neighbors and visitors alike.
"The arts are such a great medium to share what you're passionate about, share ideas and express yourself in a way that can reach people beyond what words can," Larsen said.
TEDxRoseburg will be live-streamed from 10 a.m. to 4:30 p.m. Saturday. Tickets are $10 and are available at bit.ly/tedxroseburg2021-tickets. The presentations will also be available on demand for ticket holders to watch even after the event has ended. Talks will then be reviewed by TED and uploaded onto the TEDx Youtube channel.
"Every day in our community we see small acts of kindness making big ripples. This is something so unique about Douglas County. The extent of the ripple is very much tied to the heart of the person behind the stone, and with this project, we just want to give you a creative, easily accessible vehicle to cast your inspiration," Holborow said. "By voice with a Tedx talk or artistic expression via inspirational painted rocks — anyone can be a ripple that changes the world around them."