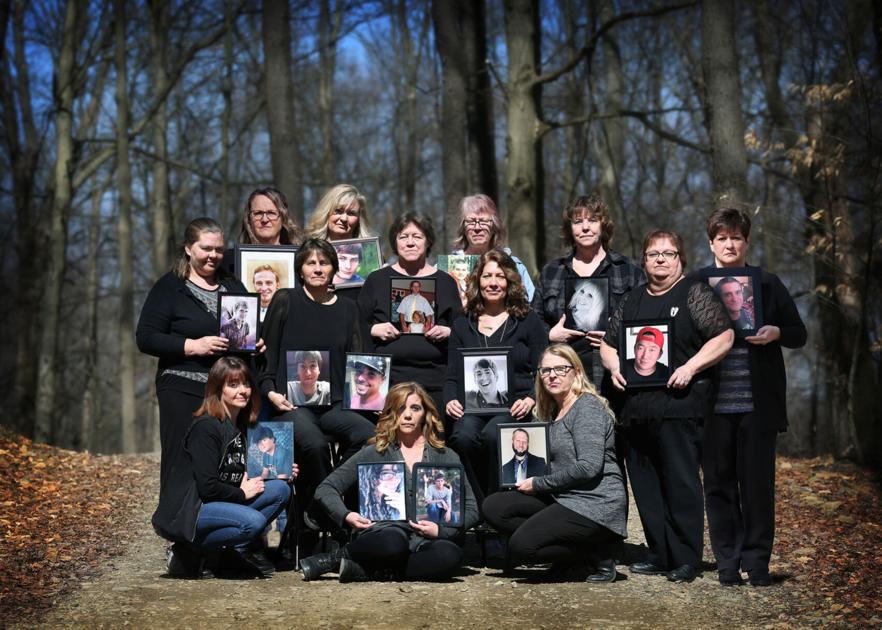 According to the Centers for Disease Control and Prevention, in 2019, 70,630 drug overdose deaths occurred in the United States. Such rates reportedly rose in 2020, as people were forced to stay home and self-isolate during the COVID-19 pandemic.
Kersey resident Patricia Greene, formerly from Ridgway, has experienced the pain first-hand of losing a loved one to addiction. After the death of her son Danny seven years ago, she decided to use her experience as fuel for bringing awareness on how addiction not only affects the addict themselves, but can have a ripple effect, reaching loved ones and throughout the community. Additionally, she emphasizes the importance of putting a face and name to individuals who have suffered from addiction, as they are more than an addict — they are sons, daughters, parents, friends and so much more.
After Greene's son passed away, she found a letter he had left her that stated that if he were to die from addiction, not to grieve for him, but to use it to help others. After giving herself some time to heal, she started the non-profit "Messengers Supporting Recovery" to bring drug awareness to the area. Then, after ignoring a recurring dream about writing a book for years, Greene decided it was finally time to do so.
"Last year I thought of all these moms that I know and all the kids that died from addiction — I said let's put a book together and we'll dedicate a chapter to our kids," she said.
Greene reached out to several moms, who reached out to several more in addition to several sisters of survivors. When all the women got together, they came up with the name "Messengers on Missions" (M.O.M.S.) and the book "Ripples: Effects of Addiction" came to fruition. The book contains stories from mostly local families that have lost a loved one to addiction in addition to stories of survivors. M.O.M.S. member Lisa Mancuso, who lost her son Tyler to addiction, designed the cover of the book.
"I wanted to make sure we got their personality in there so people could appreciate that they were the kid next door," explained Greene. "I wanted to get in the parents' "aha" moment when they realized their kid had a problem."
After being released in June, the book became an instant success, with some even sold in Canada, Germany, Australia and the UK. Over 1,000 copies have been sold so far locally, with many more purchased on Amazon.
In addition to Amazon, the book can be purchased in Ridgway at Cliffe's and Ridgway Chamber of Commerce, in St. Marys at St. Marys Pharmacy, Clyde's Meat Market and Dream Catch, in Kersey at Corner Market & Deli and Kneading Hands by Jacki Bauer, and will soon be at Always in Bloom in Coudersport. Greene hopes to expand book sales and has requests from businesses in Kane, Austin and DuBois, though the group is currently having difficulty keeping it in stock.
Greene explained that proceeds from the books are currently tied up into purchasing more books, though once they start making money, the group will vote on where to donate the money that will benefit the community.
M.O.M.S. will be having a book signing from 3 until 7 p.m. July 18th at Makers Warehouse on Brusselles Street in Kersey. Most of the members will be there, with books and t-shirts available for purchase.
As for advice for those who have a loved one who is going through addiction, Greene said that at first, as a parent, she put her head in the sand for a while and found it hard to believe that he went in that direction.
"First of all, you need to ask those hard questions — if you see signs your kids are using, just talk to them," she noted. "Number one, be honest with your kids, don't lie to them. Be straightforward with them and tell them the truth. If you see there's a problem, find a good way to connect with them."
For those currently in addiction, Greene emphasized the importance of connecting with survivors of addiction who have been successful in their recovery for a significant amount of time.
"Connect with people who have made it," she said. "Talk to people who have continued to be survivors of this addiction and disease. There's got to be a way. There are some rehabs out there; work the program. Do whatever you have to do."
As for the future, Greene said book two is currently in the works, which will be about the survivors of addiction. Additionally, Faith Magazine will be running a story on several M.O.M.S. members and Around the Alleghenies, based out of the Johnstown/State College/Altoona area, has asked Greene to appear on the local television show.
In closing, she emphasized the importance of reform in the way society approaches addiction, including taking money that would be used for incarceration and diverting it instead into treatment. Additionally, she said she believes the best way to make treatment more effective is to take the experiences of individuals who have experienced addiction into account.
"The big thing I keep stressing is, we have to change the way we do things," she said. "The way we do things isn't working. We need to talk to the people who have made it; we're not going to learn from anybody except for the people who have already walked the path."