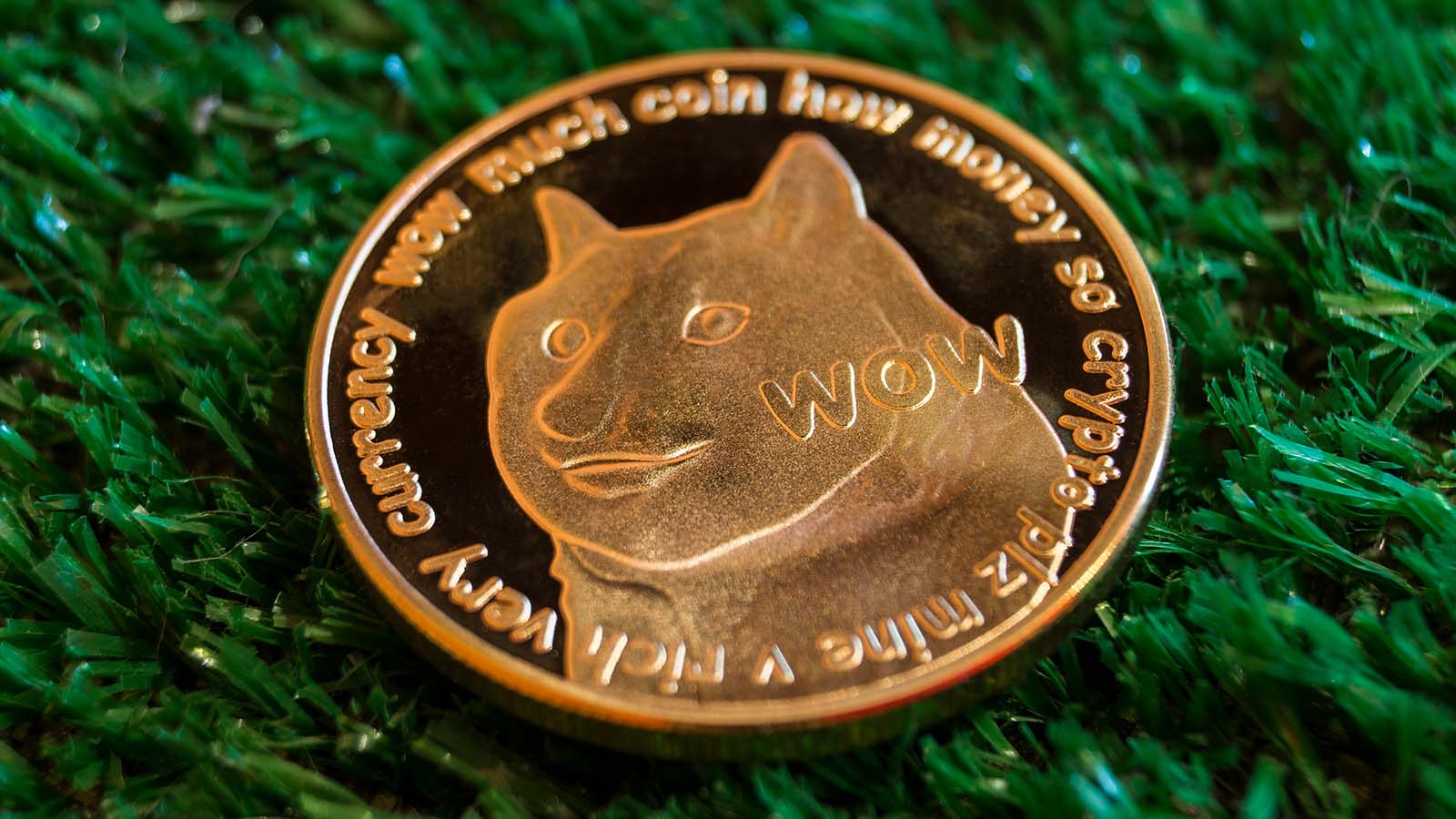 In a surging crypto market made up of alt coins, Dogecoin (CCC:DOGE-USD) has proven a fetching investment in 2021. Looking forward though, is DOGE still worthy buying?
Let's dig into the digital coin, both off and on the price chart. Then we'll offer a risk-adjusted determination that won't bite back.
Dogecoin. It's been called a meme. But DOGE has also been hailed the "people's crypto" among other Dogecoin ruminations by Elon Musk this year vis-à-vis his favorite tout platform Twitter (NYSE:TWTR). In all fairness to the Tesla (NASDAQ:TSLA) CEO, his interest in Dogecoin actually began as far back as 2019. Yeah, I know. Ancient.
Today and unsurprisingly, given 2021's circus-like antics by Robinhood's merry band of short-squeeze and low-priced-stock marauders, Elon's social media muscle has taken on a whole new level of attention for Dogecoin. As with his infamous, out-of-left-field, and misspelled "Gamestonk!!" tweet, which helped fuel GameStop (NYSE:GME) to record highs in January, multiple plugs for the altcoin have worked to put DOGE atop the crypto market's winner's circle.
Year-to-date Dogecoin is up more than 1,060%. By comparison, crypto's 800-pound gorilla Bitcoin (CCC:BTC-USD) is up "just" 93%.
A Bitcoin Alternative
But is DOGE the real deal or just some fly-by-night sideshow in an investing environment that's proving incredibly open to gamesmanship and over-the-top price volatility in 2021?
Believe it or not, Dogecoin was created a really long time ago. Not like the Star Wars a long time ago, but the year was 2013. However, unlike a business successfully maintaining its status as an ongoing concern, eight years as an alt coin can mean a great deal less.
Dogecoin was developed as a "fork" or tweak to existing blockchain source code for a defunct alt currency called luckycoin. More important, the dog-faced crypto was purely intended as a joke and "fun" alternative to Bitcoin, among techno geeks at least, according to one of DOGE's co-founders. And with no software updates in years, zero mining limits, DOGE coins topping 100 billion this year and decisively, no practical function behind the coin, has Elon been joking with us all along?
Dogecoin Stock Weekly Price Chart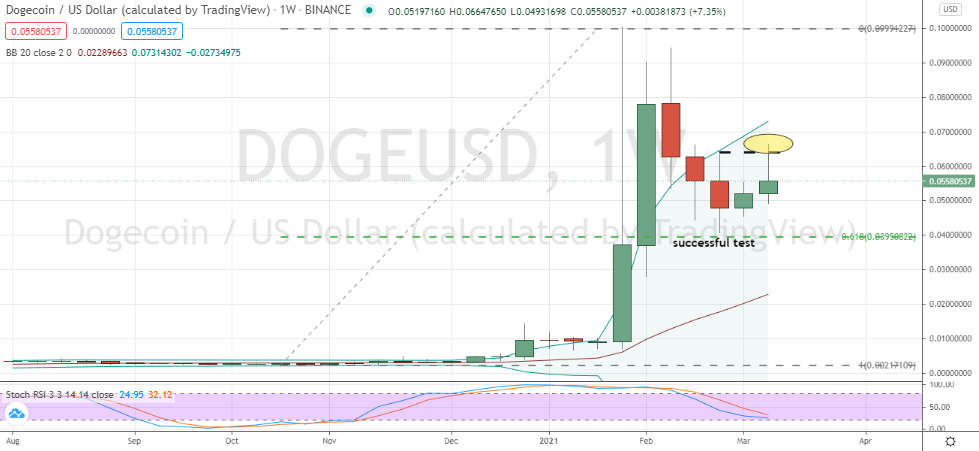 Source: Charts by TradingView
Some investing lessons are never learned. DOGE stands out as one of those serial offenders. Moreover, with Dogecoin's gains buoyed by a measly market price of about 5 cents, lacking crypto currency regulation and a ballooning digital currency market now worth roughly $1 trillion in valuation, in 2021 DOGE just is. Those are my thoughts. Or you can take Elon's "No highs, no lows, only Doge" and see the future with certainty.
Bottom-line and where none really exists, with DOGE ownership investors aren't getting the crypto market's fastest transaction speed. That honor goes to Litecoin (CCC:LTC-USD). Nor are investors buying into a coin aimed at the privacy-minded like Monero (CCC:XMR-USD) or acquiring crypto's "world computer" as some view Ethereum (CCC:ETH-USD).
The good news, if you're a technically oriented and carnival-seeking investor, today DOGE offers the opportunity to buy a classic weekly pullback. Over the past month the coin has retraced 62% of its rally from 2020's low. And as of this week DOGE has confirmed a double candlestick bottoming pattern indicating the correction has finished.
Dogecoin to the Moooonn? Doubtful. Fun as intended? Maybe.
On the date of publication, Chris Tyler holds, directly or indirectly, positions in Grayscale Bitcoin (GBTC), Grayscale Ethereum Trust (ETHE) and Grayscale Ethereum Classic (ETCG), but no other securities mentioned in this article.
Chris Tyler is a former floor-based, derivatives market maker on the American and Pacific exchanges. The information offered is based on his professional experience but strictly intended for educational purposes only. Any use of this information is 100%  the responsibility of the individual. For additional market insights and related musings, follow Chris on Twitter @Options_CAT and StockTwits.