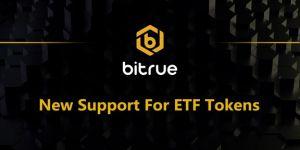 Disclaimer: The Industry Talk section features insights by crypto industry players and is not a part of the editorial content of Cryptonews.com.
Digital asset platform Bitrue has added support for leverage tokens which will be available for purchase on their cryptocurrency exchange. To provide more trading options for users, Bitrue will initially support XRPUSDT packages for long and short positions, and traders can juice up their bets with 3x leverage.
The new product is a type of crypto derivative contract that gives investors increased exposure to the underlying asset's performance without the complex aspects of managing a margin trade. Like other derivatives, leveraged tokens can be traded on the spot market and investors are able to reap rewarding profits in a short span of time.
The price of a leveraged token moves in tandem with price changes in the underlying contract market. Unlike margin trading, these crypto derivatives allow traders to gain exposure without having to put up any collateral or maintain a certain margin level. They also don't need to worry about the risk of stop-out liquidation thanks to the mechanism of automatically adjusting leverage.
The relative simplicity of leverage tokens, essentially ERC20 tokens, is expected to garner them a lot of attention. However, even though leveraged tokens allow traders to amplify their investment returns, there are still associated risks like any other investment vehicle.
Bitrue has spent months listing coins operating in the DeFi, NFT, and smart chain spaces. It has a history of innovation within the cryptocurrency trading arena, being the first exchange to offer many investment services that are now common among all exchanges.
Bitrue's listing 'bump' accelerates as the exchange supercharged plans to support new coins in order to accommodate different types of traders. The fresh additions are part of a larger shift for the XRP-focused exchange, Bitrue said in a statement, alluding to more trading products in the pipeline.
Bitrue remains on a listing spree
"At Bitrue we're always trying to diversify the options that our users have available when investing, so that every person is able to find a strategy that works for them. The addition of leverage tokens will allow savvy investors to accelerate their earning potential. They can return profits regardless of whether the market is moving up or down, and they don't carry the risk of liquidation like other assets may do," said Adam O'Neill, Chief Marketing Officer of Bitrue.
"The proliferation of leverage tokens shows that the cryptocurrency market is continuing to mature and evolve, matching the products and services that have been available in traditional financial institutions for decades. We expect that in the next few years cryptocurrency platforms will have parity and in many cases exceed what these outdated companies are able to offer," continued Mr. O'Neill.
As competition continues to mount, Bitrue is looking to ramp up its listing process to keep up with other established and emerging players. The platform currently ranks 68th on the list of top crypto exchanges based on 24-hour trading volume, according to CoinMarketCap.
Bitrue, which launched operations back in 2018, established itself as the world's first hybrid exchange platform when it integrated decentralized finance (DeFi) products into its centralized finance (CeFi) platform.
Earlier in May, the crypto venue launched a 50 million USD investment fund geared toward supporting blockchain projects working on use cases with the potential to advance the emerging ecosystem.