The cryptocurrency market is back – and in a big way!
Between late September 2020 and late February 2021 – a period of just five months – Bitcoin prices soared an astounding 456.8%.
But Bitcoin's rise is just part of the story:
– Other cryptocurrencies – including Ethereum, BNB, Litecoin and Dogecoin – have also seen soaring prices over the past 12 months.
– Elon Musk recently purchased $1.5 billion dollars' worth of Bitcoin and will start accepting it as payment at Tesla.
– VISA and Mastercard have announced that they will enable their merchants and clients to transact using Bitcoin, unlocking potentially trillions in transaction volume.
– Goldman Sachs is re-activating its crypto trading desk after detecting huge institutional demand for bitcoin among its client base.
This new surge in cryptocurrencies – and its increasing acceptance into the mainstream – has already created opportunities for a number of companies who have been looking to establish a foothold in the space.
But one company – led by some of the brightest, boldest and most disruptive minds in the blockchain space – appears to stand apart from the rest of the crowd.
In fact, some are calling this company "the Uber of Crypto" or the "AirBnB of digital storage."
These labels are being thrown around for this company thanks to its ingenious business model that allows for the control and monetization of cryptocurrencies the company doesn't actually own.
That company is Cloud Nine Web3 Technologies (CSE:CNI; OTCMKTS:CLGUF), and the company's unique stockpile of interconnected applications and Intellectual Property has it uniquely positioned to take advantage of a new bull market for cryptocurrencies.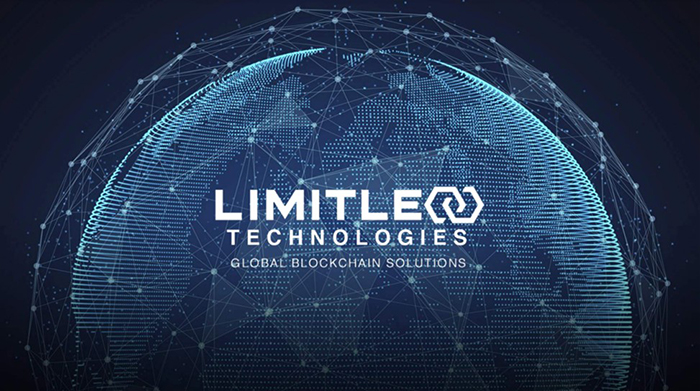 Cloud Nine (CSE:CNI; OTCMKTS:CLGUF) recent acquisition of Limitless Blockchain Technologies provides the Company with a deep-rooted technology foundation that is specifically designed to maximize user experience and customer loyalty in a way that appears far superior to other cryptocurrency platforms.
And the company is emerging just as the new bull market in cryptocurrencies is beginning to take off.
In the last five months alone, investors in the cryptocurrency space could have seen massive returns, with the likes of:
– Riot Blockchain, Inc. (Nasdaq:RIOT) – up 1,373% since October 2020…
– Marathon Patent Group, Inc. (Nasdaq:MARA) – up 1,318% since October 2020…
– DMG Blockchain Solutions, Inc (TSXV: DMGI) – up over 1,700% since November, 2020…
– Hut 8 Mining Corp (TSX: HUT) – up 600% since November, 2020…
– And HIVE Blockchain (TSXV:HIVE) – up 1,141% since October 2020
These types of outsized returns could prove to be just the beginning for investors in the cryptocurrency space as the red-hot bull market continues to soar in the months ahead.
It's critically important that investors looking to play this bull market for maximum upside do their research and give careful consideration to those under-the-radar companies with impressive business models and outstanding leadership teams…and Cloud Nine should absolutely be among those at the top of that list.
The Brightest Minds in Blockchain Have Come Together at Precisely the Right Time
This forward-thinking, customer-oriented approach is the result of the work of one of the most impressive management & advisory teams in the blockchain space.
– This team is led by Chief Technology Officer Michael Shader – with over 20 years of experience in the tech space, including working for several companies under the leadership of Elon Musk, Shader is familiar with scaling customer-oriented technologies.
– Chief Executive Officer Alex Martini is an entrepreneur and executive with nearly two decades of investing in tech-driven ventures and is a member of the Blockchain Commission for Sustainable Development at the U.N.
– Kant Trivedi, the company's Chief Operating Officer, brings over 20 years of experience building and managing world-class customer operations within the Technology, Telecommunications (Rogers Wireless), Financial Services and Blockchain sectors.
– Advisor Pavel Bains (CEO of Bluzelle) has been a part of 500 Start-ups, the world's leading early-stage start-up accelerator and VC with a presence in all major regions of the globe. And advisor Peter Smyrniotis is an executive with extensive experience helping launch high-growth disruptive companies in the crypto, blockchain and FinTech spaces.
When an impressive team such as this – including some of the brightest minds in blockchain – assembles with an under-the-radar company as a new bull market is unfolding…that is something that makes investors sit up and take notice.
Cloud Nine Web3 Technologies Impressive Platform of Interconnected Assets
Cloud Nine (CSE:CNI; OTCMKTS:CLGUF), has positioned itself to be "the Uber of Crypto" by bringing to market three interconnected assets that work together to create a unique user experience for a potential army of millions of digital miners.
These assets include:
LimitlessCrytpo™ User-Based Desktop Crypto Miner
Their first asset is a software application that offers both immediate revenue for the company as well as a foundation of users to leverage across its entire platform of assets immediately.
This downloadable desktop crypto mining platform – known as LimitlessCrypto™ VPN Miner – also acts as a virtual private network and is designed to give consumers a simple entry point into the world of cryptocurrency.
The user simply downloads and activates the VPN, and after the software calculates the user's hardware capabilities, he or she joins the mining pool and begins generating revenue through mining altcoins using the hardware's unused processing power. Upon successfully mining altcoins, the Company immediately transfers it to bitcoin, and then splits the revenue 50/50 with the VPN user.
The underlying technology powering Limitless' VPN Crypto Minder is patent pending, and the VPN currently has a wait list of over 100,000 users for its late March 2021 launch.

The company is projecting growth of this user base to over one million users by the end of 2021 and the platform currently generates an average of $11 USD gross revenues in cryptocurrency per user per month, with an attractive $7.30 in gross profit per user per month.
MicroBlock™ Miner
The company's second asset is an in-home cryptocurrency mining machine that allows customers to easily participate in advanced crypto-mining with no expertise required.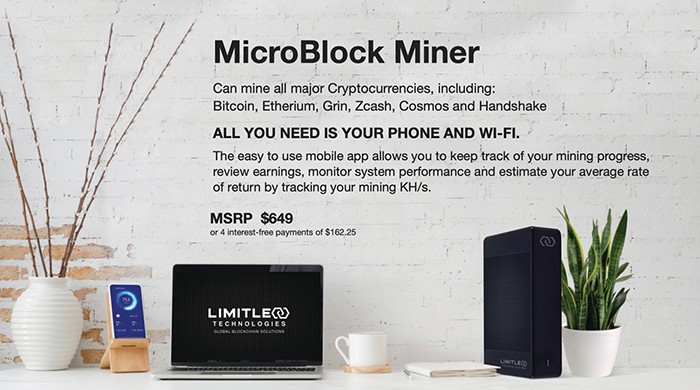 The MicroBlock™ Miner gives users a plug-and-play opportunity to participate in proof-of-work mining protocols like Bitcoin, Ethereum and other Altcoins – with the ability to immediately begin mining up to five different cryptocurrencies in their own home.
This is the company's "crypto-in-a-box" innovation that allows users all over the globe to begin mining and generating revenue without specialized knowledge or technical expertise.
X2Crypto™ Wallet for Desktop & Mobile
The real genius in this interconnected platform of assets is the X2Crypto™ Wallet for Desktop and Mobile.
Those users who have earned crypto via Limitless' VPN Miner or the MicroBlock™ Miner will need a place to store that cryptocurrency…and that's precisely what the X2Crypto™ Wallet provides.
The X2Crypto™ Wallet comes with a physical VISA™ Crypto Credit card and ties the entire platform together into its own decentralized financial ecosystem by offering storage, crypto exchange and banking capabilities.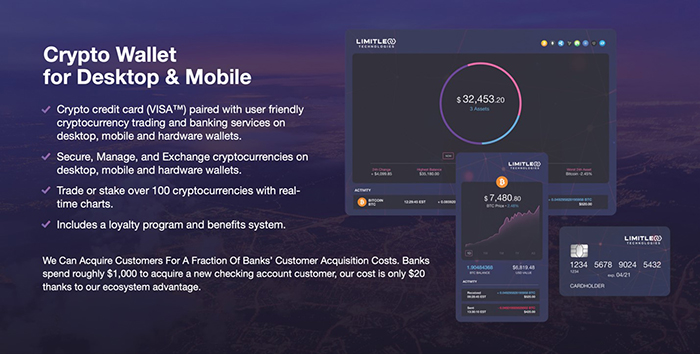 The X2Crypto™ Wallet allows users to:
– Secure, manage and exchange cryptocurrencies via desktop and mobile wallets
– Trade or stake over 100 cryptocurrencies with real-time charts
– Enjoy the convenience of a full-service bank and crypto clearing exchange all in one network
– And includes a loyalty program and benefits system
The interconnected nature of these assets is a key part of what makes Cloud Nine (CSE:CNI; OTCMKTS:CLGUF), such an interesting investment opportunity.
The first two assets – the patent pending VPN Miner and the MicroBlock Miner – serve as not just revenue streams for the company but also as a sales funnel for user acquisition and cross-platform marketing efforts for the X2Crypto™ Wallet platform.
Users have the ability to mine their own cryptocurrencies…and the X2Crypto™ Wallet provides them with the safe, convenient platform to store that crypto and send it instantly to anyone in the world.
As the company drives more users through its sales funnel, the X2Crypto™ Wallet will naturally see more transactions as well.
Cloud Nine Executive Team is Second to None
As stated earlier, one of the most intriguing aspects of this under-the-radar company is the fact that it involves such an impressive group of innovative blockchain and technology entrepreneurs.
This team includes:
Michael Shader – Chief Technology Officer
Michael is an entrepreneur with over 20 years of industry-leading experience in the Technology space. In 2013, as an early pioneer in the Blockchain and Bitcoin space, Michael founded Limitless Blockchain, a Web 3.0 technology company delivering products and services for an open and more secure internet for consumers.
Since then has been responsible for development of several Blockchain and Crypto start-ups over the last 7 years, focusing on software encryption and protection, online games, ecommerce and mobile apps, processing over $1 Billion in transactions.
More prominently Michael has previously worked for several companies under the leadership of Elon Musk. He has been an agent of change in the world of cloud infrastructure, decentralized databases, blockchain and cryptocurrencies.
Alex Martini – Chief Executive Officer
Alex is an entrepreneur and an executive with nearly two decades of investing in technology driven ventures. An early bitcoin adopter and cryptocurrency investor, Alex is the founder of New York City Bitcoin MeetUp, which now counts over 1,200 active members.
He is also a member of the Blockchain Commission for Sustainable Development at the U.N. where he co-chairs the sub-committee for Refugee rescue Shelter & Resettlement. He is an active advisor to several blockchain companies, including EdChain, Humanity Capital, 9Temple, Byte Academy Blockcellerate and the PVBLIC Foundation.
Kant Trivedi – Chief Operating Officer
Kant has over 20 years of experience building and managing world-class customer operations within the Technology, Telecommunications, Financial Services and Blockchain sectors. Kant is a co-founder and Director of Blockfusion Technologies Inc. (Blockfusion), a technology company building the world's largest blockchain and AI infrastructure. Kant previously held several senior leadership positions with Rogers Communications Inc. (RCI.B)(RCI), one of Canada's largest communications and media companies. Kant authored and implemented the Rogers Enterprise Business Unit customer operations strategy and led award-winning teams responsible for Fixed land-line, Mobile, Data Center, Colocation, Cloud and Internet of Things (IoT), supporting revenue growth to over $1.9 billion.
Nilda Rivera – Chief Financial Officer
Ms. Rivera has over 20 years of experience in corporate and operational finance and managed publicly listed companies in the areas of accounting, finance, regulatory compliance and corporate governance. She was involved in IPOs, RTOs and mergers and acquisitions in several industries including cannabis, hemp, resource and technology, and assisted various start-up companies in achieving public listings on the CSE, TSXV and OTC, and their uplisting to the TSX and NYSE.
Pavel Bains – Advisor
Pavel is the CEO of Bluzelle, a decentralized database that solves the security, integrity, reliability issues facing data management and was the co-founder of Storypanda, a digital book platform that empowered kids to read, create and share books. Storypanda published critically acclaimed titles by the world's best independant authors and media brands. Storypanda had licensing deals with DreamWorks, Warner Bros, CBC, MGA, Peanuts and many more. Storypanda's mandate was turning kids from content consumers to content creators.
Through Storypanda, Pavel became a part of 500 Startups, the world's leading early-stage startup accelerator and VC. Based in Silicon Valley, 500 Startups now has a presence in all major regions of the globe and is responsible for investing into and inspiring the next wave of entrepreneurs.
Peter Smyrniotis – Advisor
Peter Smyrniotis is a Founder, Operator, and Board-Level Executive adept in launching high-growth disruptive companies, shipping new products to market, building teams and revenue through growth stages (Seed to Liquidity). His primary focus has been on platforms and marketplaces (crypto, blockchain, FinTech, PropTech, Security, Data), B2B, Software-Enabled businesses.
Bottom Line: Cloud Nine (CSE:CNI; OTCMKTS:CLGUF), Offers Investors Smart Exposure to the New Crypto Bull Market Thanks to Its Impressive Leadership and Interconnected Assets
The surge in the cryptocurrency markets over the last several months has triggered a wave of interest from investors – and a number of compelling investment opportunities have emerged.
None of those opportunities, however, appear to match the unique combination of assets, experience and interconnectivity that Cloud Nine offers as the potential "Uber of the Crypto Space."
– The company offers market-ready software for crypto mining via its LimitlessCrypto™ VPN Miner, which has a wait list of 100,000 users (with one million expected by the end of 2021) and offers the company a consistent early revenue stream.
– The MicroBlock™ Miner is a home crypto mining machine that allows users an opportunity to easily participate in advanced mining – from their own home – without any special expertise.
– The crypto-rich user base from these two assets will then help to fuel the company's most impressive offering – the X2Crypto™ Wallet for Desktop and Mobile, which serves as a digital wallet, bank, and financial processor.
By building a massive funnel for users – with such an impressive collection of interconnected assets – Cloud Nine is working to build a scalable platform unlike any other in the industry.
Other Canadian companies to watch as a new tech boom takes over markets:
Blackberry Limited (TSX:BB) recently launched a new research and development arm called BlackBerry Advanced Technology Labs. Charles Eagan, BlackBerry CTO. "Today's cybersecurity industry is rapidly advancing and BlackBerry Labs will operate as its own business unit solely focused on innovating and developing the technologies of tomorrow that will be necessary for our sustained competitive success, from A to Z; Artificial Intelligence to Zero-Trust environments.
Though BlackBerry has seen some increased volatility in recent months due to its popularity among Wall Street Bets investors, the company has a lot of potential in the long term, and will likely remain as one of Canada's premiere tech firms for years to come. 
Kinaxis Inc (TSX:KXS) is a provider of cloud-based subscription software for supply chain operations. With the complexity of oil, gas and resource transport and storage, Kinaxis has the potential to offer incredible solutions for its clients.
Kinaxis offers RapidResponse as a collection of cloud-based configurable applications. The Company's RapidResponse product provides supply chain planning and analytics capabilities that create the foundation for managing multiple, interconnected supply chain management processes, including demand planning, supply planning, inventory management, order fulfillment and capacity planning.
Kinaxis is a growing company, but the company has already carved out a significant piece of the pie. As a leader in its field, Kinaxis is a force which investors are keeping an eye on.
Computer Modelling Group (TSX:CMG) is a software technology company producing reservoir simulation software for oil and gas companies. Computer Modeling Group LTD. Is a tempting trade for investors as it brings together two essential industries – tech and resources- which are going anywhere any time soon. Especially as the need for security grows, a tech company involved in the oil and gas industry has an incredible opportunity to offer other services.
While Computer Modelling Group focuses on the resource industry, its technology is definitely breaking ground. Founded nearly 40 years ago by Khalid Aziz, a renowned simulation developer, the company has proven that it has staying power. As the resource industry meets technology, this will be a stock to pay attention to.
Celestica Inc. (TSX:CLS) is a manufacturer of electrical devices used in IT, telecommunications, healthcare, defense and aerospace industries. While telecommunications stocks have been volatile recently, defense, IT and aerospace industries have outperformed and while many see limited upside, these industries continue to surprise both investors and analysts.
HIVE (TSXV:HIVE) is a company seeing some major backing from the majors via Lionsgate Entertainment and Goldcorp (NYSE:GG) superstar Frank Giustra, a legendary mining figure known for being in the right place at the right time—and always in front of a trend.
The new Great Game is virtual reality, and while governments are busy trying to figure out how they can control it, investors are busy sinking billions into what is fast becoming a story of industrial-scale cryptocurrency mining.
Now that everyone's seen how resilient Bitcoin is, not only are things moving to the industrial phase, but everyone's weighing the best venues for mining. Because even though this is virtual reality, location still matters.
By. Andy Beckett
IMPORTANT NOTICE AND DISCLAIMER
PAID ADVERTISEMENT This article is a paid advertisement. GlobalInvestmentDaily.com and its owners, managers, employees, and assigns (collectively "the Publisher") is often paid by one or more of the profiled companies or a third party to disseminate these types of communications. In this case, the Publisher has been compensated by Cloud Nine Web Technologies Inc. ("Cloud Nine") to conduct investor awareness advertising and marketing. Cloud Nine paid the Publisher to produce and disseminate five similar articles and additional banner ads at a rate of sixty thousand US dollars per article. This compensation should be viewed as a major conflict with our ability to be unbiased.
Readers should beware that third parties, profiled companies, and/or their affiliates may liquidate shares of the profiled companies at any time, including at or near the time you receive this communication, which has the potential to hurt share prices. Frequently companies profiled in our articles experience a large increase in volume and share price during the course of investor awareness marketing, which often ends as soon as the investor awareness marketing ceases. The investor awareness marketing may be as brief as one day, after which a large decrease in volume and share price may likely occur.
This communication is not, and should not be construed to be, an offer to sell or a solicitation of an offer to buy any security. Neither this communication nor the Publisher purport to provide a complete analysis of any company or its financial position. The Publisher is not, and does not purport to be, a broker-dealer or registered investment adviser. This communication is not, and should not be construed to be, personalized investment advice directed to or appropriate for any particular investor. Any investment should be made only after consulting a professional investment advisor and only after reviewing the financial statements and other pertinent corporate information about the company. Further, readers are advised to read and carefully consider the Risk Factors identified and discussed in the advertised company's SEC, SEDAR and/or other government filings. Investing in securities, particularly microcap securities, is speculative and carries a high degree of risk. Past performance does not guarantee future results. This communication is based on information generally available to the public and on interviews with company management, and does not (to the Publisher's knowledge, as confirmed by Cloud Nine) contain any material, non-public information. The information on which it is based is believed to be reliable. Nevertheless, the Publisher cannot guarantee the accuracy or completeness of the information.
SHARE OWNERSHIP. The Publisher owns shares and/or stock options of the featured companies and therefore has an additional incentive to see the featured companies' stock perform well. The Publisher does not undertake any obligation to notify the market when it decides to buy or sell shares of the issuer in the market. The Publisher will be buying and selling shares of the featured company for its own profit. This is why we stress that you conduct extensive due diligence as well as seek the advice of your financial advisor or a registered broker-dealer before investing in any securities.
FORWARD LOOKING STATEMENTS. This publication contains forward-looking statements, including statements regarding expected continual growth of the featured companies and/or industry. The Publisher notes that statements contained herein that look forward in time, which include everything other than historical information, involve risks and uncertainties that may affect the companies' actual results of operations. Factors that could cause actual results to differ include, but are not limited to, changing governmental laws and policies impacting the company's business including the regulation of cryptocurrency or affiliated blockchain technologies, the ability of the company to execute against its business plan, the degree of success with respect to bitcoin, various altcoins and cryptocurrency in general, the success of Cloud Nine's VPN, regulatory and / or exchange approval of any pending or future transactions, the size and growth of the market for the companies' products and services, the ability of management to execute its business plan, the continuity of management, the companies' ability to fund its capital requirements in the near term and long term, pricing pressures, etc.
INDEMNIFICATION/RELEASE OF LIABILITY. By reading this communication, you acknowledge that you have read and understand this disclaimer, and further that to the greatest extent permitted under law, you release the Publisher, its affiliates, assigns and successors from any and all liability, damages, and injury from this communication. You further warrant that you are solely responsible for any financial outcome that may come from your investment decisions.
TERMS OF USE. By reading this communication you agree that you have reviewed and fully agree to the Terms of Use found here http://GlobalInvestmentDaily.com/Terms-of-Use. If you do not agree to the Terms of Use http://GlobalInvestmentDaily.com/Terms-of-Use, please contact GlobalInvestmentDaily.com to discontinue receiving future communications.
INTELLECTUAL PROPERTY. GlobalInvestmentDaily.com is the Publisher's trademark. All other trademarks used in this communication are the property of their respective trademark holders. The Publisher is not affiliated, connected, or associated with, and is not sponsored, approved, or originated by, the trademark holders unless otherwise stated. No claim is made by the Publisher to any rights in any third-party trademarks.