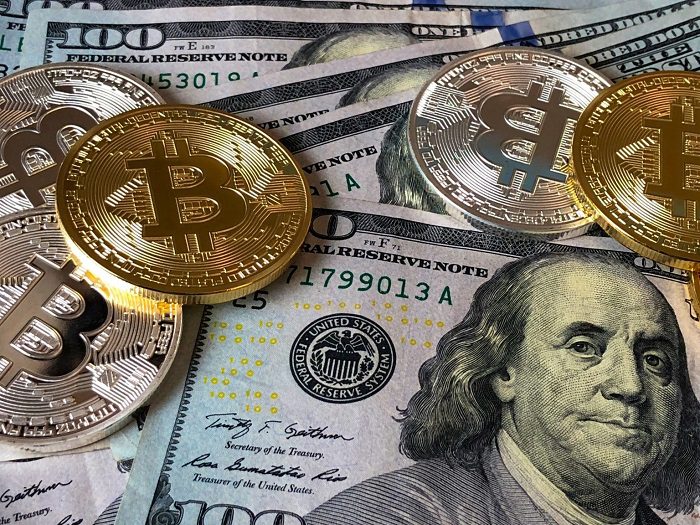 Bulls, bears, and even the odd wolf in sheep's clothing. Crypto trading can be exhilarating, but it can also test your mettle. Here's a rundown of the Best TOP 10 crypto to invest in 2021
---
Ready to invest in cryptocurrencies?

Read the article below and following are four main steps to help when you are ready:
No.10: Chainlink ($LINK)
Chainlink (LINK) is an Ethereum token that powers the Chainlink decentralized oracle network (DON), a leading on-chain provider that allows smart contracts on Ethereum to connect securely to external data sources, APIs and payment systems. At the start of 2021, Chainlink had an impressive bull rally, surging from an $11 low to an all-time high of $36.9. And that's not all.
According to their recent report "BITCOIN At the Tipping Point," Citibank's Citi GPS platform had high praise for Chainlink and its token, writing: Originally designed for the Ethereum platform, it is starting to be adopted by others such as Tezos and Polkadot. Chainlink was recognized by the World Economic Forum which named the startup in its 100 most promising Technology Pioneers of 2020.
Developers that utilize the Chainlink network pay with the protocol's native token, LINK. Thus, a token that helps to facilitate the growth of the on-chain ecosystem may also gain prominence over Bitcoin in time as it becomes increasingly critical to the operation of the blockchain infrastructure.
It is thus already possible to envision a commerce-linked or infrastructure-linked coin that may eventually eclipse Bitcoin. More such possibilities may emerge. Innovation in the chain-based ecosystem is continuing apace and today's offerings may yet give way to a new invention that garners more attention and assets than Bitcoin."
We'd say that's reason enough to keep an eye on Chainlink.
No.9: Uniswap ($UNI)
Uniswap is a leading decentralized crypto exchange that runs on the Ethereum blockchain. It employs a fairly new type of trading model called an automated liquidity protocol, which incentivizes people trading on the exchange to become liquidity providers. Coindesk has a helpful introduction to the exchange, describing it in the following way:
"Each token listed has its pool that users can contribute to, and the prices for each token are worked out using a math algorithm run by a computer (explained in "How token price is determined," below). With this system, a buyer or seller does not have to wait for an opposite party to appear to complete a trade. Instead, they can execute any trade instantly at a known price provided there's enough liquidity in the particular pool to facilitate it."
Introduced in September 2020, Uniswap's UNI is a governance token that was distributed according to a set release schedule. 4000 UNI tokens were airdrop and offered to users who had previously used Uniswap's services. For those interested in trading them, exchanges, such as Bityard and, of course, Uniswap itself.
As of this writing, those free tokens are now worth an eye-watering $12,000, making UNI definitely one to watch in 2021.
No.8: Cardano ($ADA)
Launched in 2017 as a competitor to the Ethereum blockchain, the Cardano blockchain platform was designed by Input Output Hong Kong (IOHK), a decentralized company headed by Charles Hoskinson, co-founder of Ethereum. IOHK started in 2015 and builds blockchains and cryptocurrencies for businesses, educational institutions and governments.
First offered for sale in September 2015, ADA coins have experienced the same ups and downs of other cryptocurrencies, all the while achieving an all-time high in February 2021 of $1.49. As of March 2021, their market cap is in the region of $39bn, and there are approximately 31.2 billion ADA coins in circulation, with supply capped at 45 billion.
There's been some buzz about the introduction of smart contract functionality on Cardano, which will offer developers the options to create and deploy their decentralized applications (DApps). Cardano is also the first to be founded on peer-reviewed research, and their stated goal is" to redistribute power from unaccountable structures to the margins – to individuals – and be an enabling force for positive change and progress."
Forecasting for ADA remains bullish, with many analysts expecting it to hit $2 by the end of the year. Some are even talking about a peak of $10 by year's end. Keep eye on ADA in Bityard.
No. 7: Tron ($TRX)
No, not that Tron (the 1982 film is fire, by the way). $TRON is a cryptocurrency that was founded by the TRON foundation and is currently one of the most hyped projects making headlines today. CEO Justin Sun was added to "Forbes 30 Under 30 in 2017."
TRON aims to construct a costless, worldwide digital entertainment network that allows users to distribute and share content effortlessly and inexpensively. By removing the need for a mediator, TRON empowers anyone to put their content on its blockchain-built ecosystem, driving down the prices of distribution channels for publishers, while hinting at the possibility of lower consumer fees when accessing that content. And $TRX is the token that powers the entire system.
According to their website, they have many heavy-weight core partners, including Poloniex, Samsung, BitTorrent, Swisscom Blockchain and Opera. Remarkably, TRON hosts more dApps than Ethereum, which has led many investors to speculate that TRON is going to be a lucrative investment choice in 2021. It remains to be seen if they can follow through on their stated mission to "decentralize the web" and transform stable and even sideways movement into upward movement in the year ahead.
No.6: Ripple ($XRP)
First released in 2012, Ripple is both a cryptocurrency and a digital payment network for financial transactions. As we wrote in our article "XRP price prediction for 2021-2025," Ripple's XRP coin remains one of the most undervalued crypto assets in the world.
XRP is a payment token that was created by Ripple Labs to be used on its decentralized payments system. While the company started with a blockchain-based system, XRP is used with a network of validation nodes rather than a blockchain. The Ripple network can be used for more than just sending XRP, and, although the token is limited in supply, it isn't mined in the same way as Bitcoin or Ethereum, which many see as one of its advantages in terms of speed and cost.
Along with every other token on the market, $XRP lost considerable value during the crash at the beginning of 2020, but has risen in value and remains relevant as the fuel for Ripple, the open-source platform developed to facilitate quick and cheap transactions. Several financial giants have even thrown their weight behind Ripple, including JP Morgan, HSBC and MoneyGram, among others. It remains to be seen, however, if the recent rift with MoneyGram over the SEC suit will prove detrimental to the asset's value.
Many cryptocurrency traders feel that a global transition away from the traditional financial system to one using blockchain is imminent. Because Ripple offers to facilitate this transition on an institutional level, the token could be one of the best cryptocurrencies to invest in 2021. It is certainly one of the tokens on this list with the most potential. It has solid technology and a rapidly expanding network, which opens new doors in international banking and payment networks.
No.5: Litecoin ($LTC)
Think of Litecoin as the Rodney Dangerfield of crypto – it can't get enough respect. Created in October 2011 by Charlie Lee, an ex-Google employee, it is formed from Bitcoin, with similar features and characteristics, but, crucially, is lighter and faster.
Litecoin is a peer-to-peer cryptocurrency and open-source software project released under the MIT/X11 license. From a technical standpoint, Litecoin is nearly identical to bitcoin, making it an early spinoff or altcoin of the popular cryptocurrency. And, just like its older brother Bitcoin, the supply of Litecoin is capped at 84 million, with approximately 75% (or roughly 65 million) of it having been mined already.
Many argue that Litecoin is one of the most undervalued cryptocurrencies in the world, despite being around for a decade. Whereas Bitcoin is often referred to as the gold of the crypto world, Litecoin is seen as silver. Recently, Litecoin surged by more than 630% from its lowest level in 2020, which has brought its total market cap to more than $12 billion, making it the 9th largest cryptocurrency in the world, with forecasters predicting that its value could move beyond $200.
However, it recently shed almost half of its gains without any rebound. But Litecoin enjoys widespread investor confidence and typically enjoys a solid value correlation with Bitcoin. Despite the perception of it as "the lite version of bitcoin," it has a lot to recommend itself.
No.4: Zcash ($ZEC)
Zcash is seen by some as a zee privacy alternative to Bitcoin (couldn't resist—all of us at Trality are based in German-speaking Vienna). In all seriousness, according to Zcash, it "offers confidentiality to protect your privacy and your financial history, and transactions can be confirmed quickly with low transaction fees," seeing itself as "a fair and open currency that can be spent, sent and received via mobile phone, computer or digital wallet," while offering "everyone equal access, regardless of social status or demographic." All of this is made possible through zero-knowledge cryptography dubbed zk-SNARKs and is developed by the Electric Coin Company (ECC).
First mined in 2016, Zcash has capped its number at 21 million units (its circulating supply is about half this number) just like Bitcoin. At the end of 2020, they underwent their first halving as well as did away with their unpopular "Founders Reward," but exchanges such as Bittrex have been moving to delist privacy coins such as Zcash, Monero (XMR) and Dash (DASH) to ensure compliance with know-your-customer (KYC) and anti-money laundering (AML) regulations.
Only time will tell if these sorts of concerns will impact privacy coins, but analysts have been talking about Zcash hitting $350 by the end of this year. If its price history is any indication, traders could be in for a bumpy ride, as Zcash can be volatile. But, then again, so are most cryptocurrencies.
No.3: Bitcoin Cash ($BCH)
Variously described as "a software upgrade," "like a new version of Microsoft Word," "Bcash," and even "Btrash," Bitcoin Cash is a cryptocurrency that is a fork of Bitcoin and was created in 2017. The intention behind the inception of Bitcoin Cash was to accommodate a larger block size when compared to Bitcoin, allowing more transactions into a single block. Despite the differences between the two, though, Bitcoin Cash and Bitcoin have some technical similarities, use the same consensus mechanism and have their supply capped at 21 million.
If you've got 37 minutes to spare, then check out the video "Bitcoin Cash: The Road To Mass Adoption" in which leading figures from the BCH ecosystem explain the reasons behind their optimism for 2021. Contributors such as Roger Ver, Josh Green, Shomari Prince, George Donnelly and Jonathan Toomin explain why they see Bitcoin Cash as the blockchain world's answer to the most significant challenges facing the global financial system. Whether or not 2021 turns out to be a breakout year for BCH remains anyone's guess. But a recent announcement by Japanese e-commerce Rakuten bodes well. The Japanese company has annual revenues of more than $13 billion and is one of the most popular e-commerce platforms in the country. Thousands of consumers across Japan will now be able to make purchases with cryptocurrency, including Bitcoin Cash.
No.2: Ethereum ($ETH)
While bitcoin might be the most popular cryptocurrency amongst investors, it's not the most influential. That award goes to Ethereum and for good reason, as it allows anyone to build upon its blockchain. If Bitcoin harnessed blockchain for money and payments, Ethereum 's blockchain has a wider variety of applications, from its native token Ether (ETH) to smart contracts, among other things.
Founded in 2014, Ethereum is at the forefront of the DeFi (decentralized finance) revolution, which makes it possible to shift from traditional, centralized financial systems to peer-to-peer finance via decentralized technologies built on the Ethereum blockchain.
Ethereum, the second-largest cryptocurrency in terms of market capitalization and volume, hit a record high recently, buoyed by growing institutional interest. By the end of September 2020, Ethereum's market cap skyrocketed by 60% from $25 billion to $40 billion. At one point, one token was worth $483 before sliding down to $358. In the weeks after, Ethereum shocked investors when it reached $410 and continued to rally alongside bitcoin back in November. If this positive trend continues throughout 2021, then we will see a bullish $ETH.
With such great value for money, Ethereum is a smart investment option for those just getting started in the cryptocurrency market. The strength of the $ETH token correlates with the scale of the network, which means the token will only move from strength to strength as more dApps and projects are launched on the network.
In the coming months, the rise in popularity of DeFi products alongside a successful deployment of the Ethereum 2.0 network upgrade bodes exceptionally well for Ethereum's price.
No.1: Bitcoin (BTC)
Love it or hate it, but you can't deny its enviable staying power, market dominance and continued importance to the cryptocurrency ecosystem. These are just a few of the reasons why flagship bitcoin is referred to as "the King of Crypto."
Developed in 2011 by the pseudonymous Satoshi Nakamoto, Bitcoin's reputation precedes itself. No self-respecting cryptocurrency ranking would be complete without mentioning it, especially since it holds about 65% of the market cap.
With its popularity, though, comes a lot of hype. In March 2021, bitcoin prices were achieving record highs, with a single bitcoin valued over $60,000. Anthony Scaramucci, founder of SkyBridge Capital and recent crypto convert, is even predicting that bitcoin will hit $100,000 by the end of the year. Whether its value continues to charge ahead or levels off (or even dips), there can be no doubt that bitcoin will likely continue to command the cryptocurrency market. As it does, traders will consistently benefit from high liquidity regardless of the health of the market. And while bitcoin is volatile, it demonstrates consistent growth。
Ready to invest in cryptocurrencies?
So now that you've got some valuable insight into which cryptocurrencies are worth considering this year, you might have a few practical questions related to testing the cryptocurrency waters. Following are four main steps to help when you are ready: