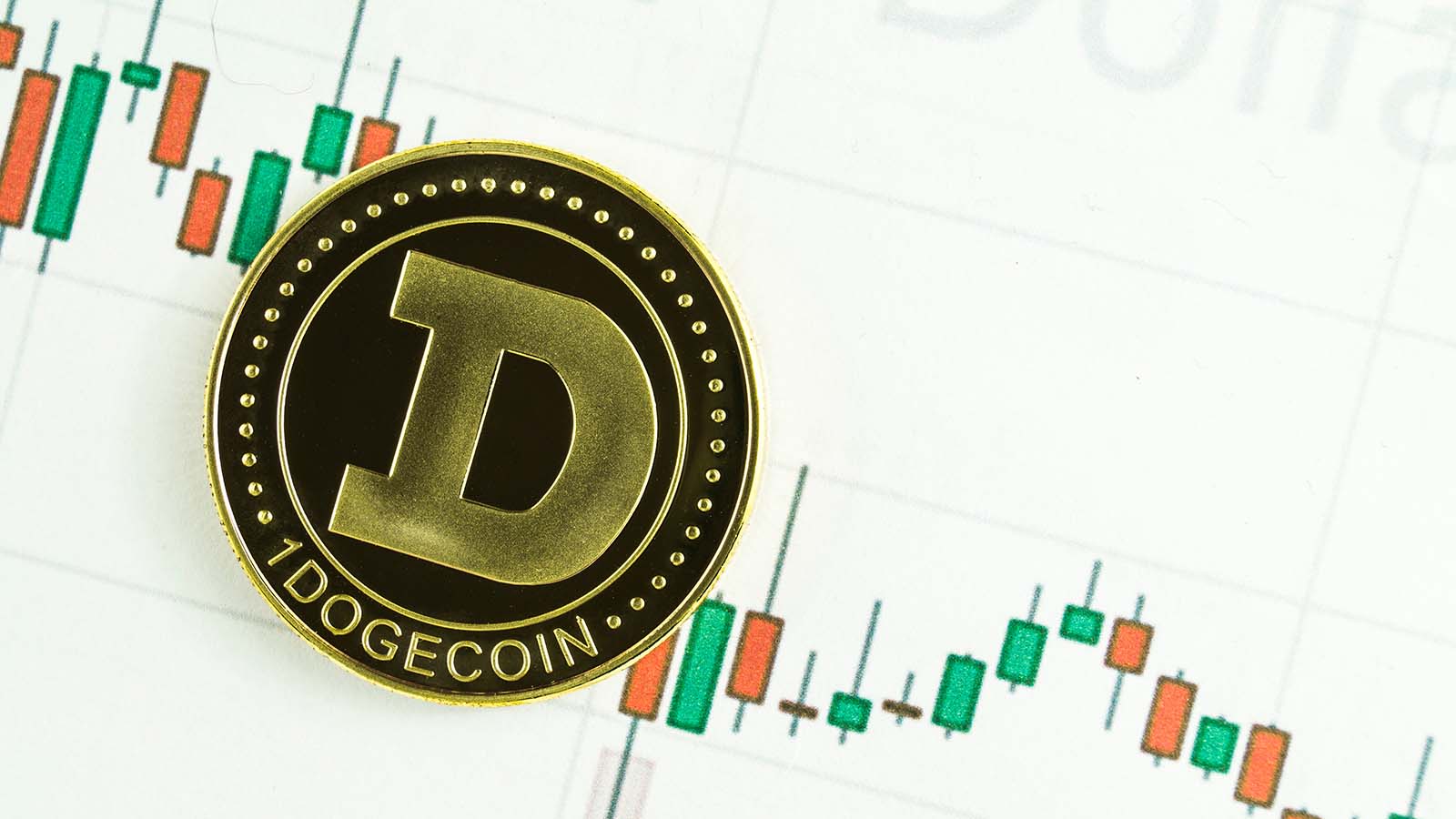 We've seen Dogecoin (CCC:DOGE-USD) run. But on #DOGEDAY420, are shares set to learn a new trick and get smoked? Let's dig into what's happening in the digital coin off and on the price chart and why investors should avoid getting bit by today's DOGE stock.
In a surging crypto market made up of alt coins, DOGE stands out in more than one way. Most importantly and for today's investors, what Dogecoin is offering is a cautionary tale. Or should we say an admonitory tail wagging the DOGE? Either way, and all kidding aside, the risks in owning Dogecoin are significant.
So, what is Dogecoin and why should investors interested in exposure to digital currencies vis-à-vis DOGE be wary? Maybe investors should appreciate what DOGE isn't first.
The thing is with DOGE ownership investors aren't getting the crypto market's fastest transaction speed. That honor goes to Litecoin (CCC:LTC-USD). Dogecoin investors also aren't buying into an alt coin aimed at the privacy-minded. That endgame goes to Monero (CCC:XMR-USD).
What about owning crypto's "world computer" with DOGE? Not quite. Ethereum (CCC:ETH-USD) checks that box as the one to beat. The largest digital asset? There's Bitcoin (CCC:BTC-USD) and its trillion-plus market cap.
The good news or bad news depending on one's perspective? This week DOGE did briefly surpass payments-based XRP (CCC:XRP-USD) as the fourth largest alt coin when it's valuation ballooned to more than $54 billion.
DOGE with Fleas
So, what exactly are today's investors receiving in exchange for U.S. dollars into DOGE? Most likely it's ownership buying into a deep hole readying to be dug. Sorry, it is what it is. Still and to walk the aisle just slightly, DOGE does offer great theater in a market that's enjoyed no shortage of spectacles. And that has to count for something, right?
From meme-based short squeezes putting GameStop (NYSE:GME) and AMC (NYSE:AMC) centerstage or the spectacular rise and crash in EV SPACs from QuantumScape (NYSE:QS) to Nikola (NASDAQ:NKLA) and many of their peers, Dogecoin is today's current hairbrained scheme captivating Wall and Main Street. It's also certain to end badly.
To be fair, as a Gen-X'er could I simply be too old to understand this time is different? Doubtful. But don't take my word for it, trust DOGE's creators. Bottom line, the dog-faced crypto was birthed as an intentional joke back in 2013 and a "fun" alternative to Bitcoin – well, among a tiny contingent of techno geeks.
Today and with no software updates in years, there are zero mining limits, DOGE coins surpassing 100 billion earlier this year and decisively, no practical function behind the coin. Don't say you haven't been fairly warned.
But first things first and scarily enough, with some theater-going popcorn in hand of course, today is Dogecoin's annual, first-ever #DOGEDAY420. The trending cannabis-themed event is being promoted by DOGE's supporters in an attempt to make April 20 (a.k.a. 4/20) an international day of celebration for the DOGE cryptocurrency.
To be sure, #DOGEDAY420 should have Tesla (NASDAQ:TSLA) front man Elon Musk's attention. But rather than well-supported showmanship, maybe looking at an unsupported and rather unhinged rally is where investors' attention should be focused to avoid getting smoked.
Dogecoin Stock Weekly Price Chart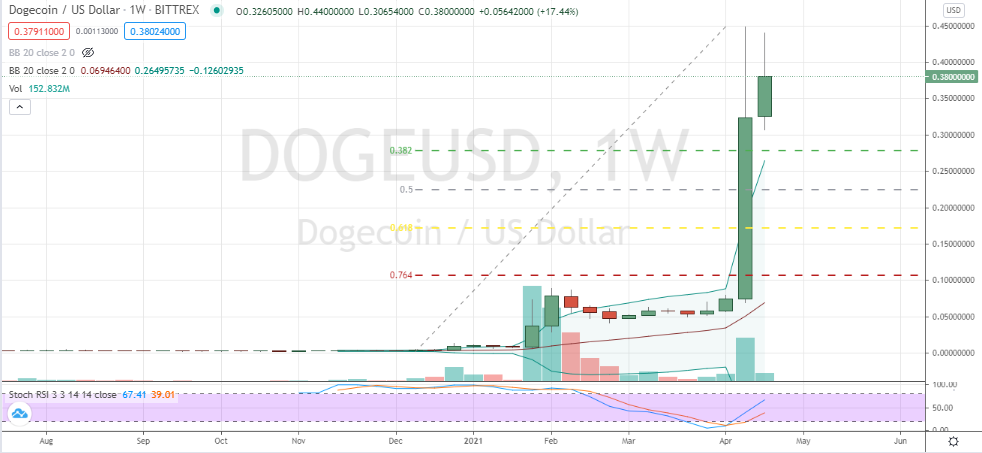 Source: Charts by TradingView
Technically, DOGE isn't a joke. It's up more than 7,700% year-to-date. Today, it's also a digital asset caught in the crosshairs.
On the DOGE price chart and helping create those big green weekly candlesticks of the past two weeks, there's enthusiastic crowd momentum wishing and cheerleading Dogecoin can rally to $1 or more. Importantly, there's also a much more tightly-held contingent of wallets owning Dogecoin at markedly lower prices looking to cash out without tipping their hand.
The combination of these two competing factions, DOGE's intoxicating and likely toxic gains if history rhymes at all, as well as the amped-up, social media parading in Dogecoin, points to big trouble. Unless investors enjoy being left holding the bag.
Bottom line, the provided Dogecoin chart shows common retracement levels for assisting investors with locating a pullback bound to catch the eyeballs of other chart reading traders. But unlike that traditional use of Fibonacci and given what we know about Dogecoin, the deeper DOGE digs it's hole, the more trouble investors are going to have recouping their greenbacks.
On the date of publication, Chris Tyler holds, directly or indirectly, positions in Grayscale Bitcoin (GBTC), Grayscale Ethereum Trust (ETHE) and Grayscale Ethereum Classic (ETCG), but no other securities mentioned in this article.
Chris Tyler is a former floor-based, derivatives market maker on the American and Pacific exchanges. The information offered is based on his professional experience but strictly intended for educational purposes only. Any use of this information is 100%  the responsibility of the individual. For additional market insights and related musings, follow Chris on Twitter @Options_CAT and StockTwits.